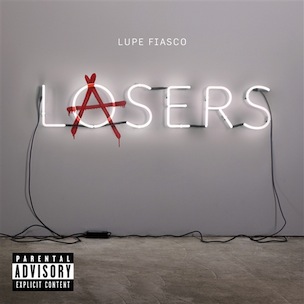 The present tracklisting to Lasers is as follows:
01. Letting Go (Feat. Sarah Green)
02. Words I Never Said (Feat. Skylar Grey)
03. Till I Get There
04. I Don't Wanna Care Right Now (Feat. MDMA)
05. Out Of My Head (Feat. Trey Songz)
06. The Show Goes On
07. Beautiful Lasers, (Two Ways) (Feat. MDMA)
08. Coming up (Feat. MDMA)
09. State Run Radio (Feat. Matt Mahaffey)
10. Break The Chain (Feat. Eric Turner & Sway)
11. All Black Everything
12. Never Forget You (Feat. John Legend)
The Lupe camp would not confirm but did not deny this tracklisting so this is how it is known as of yet, we will update anything when the information is up.