Wale Vs. Kid Cudi… Who Cares?
By CEC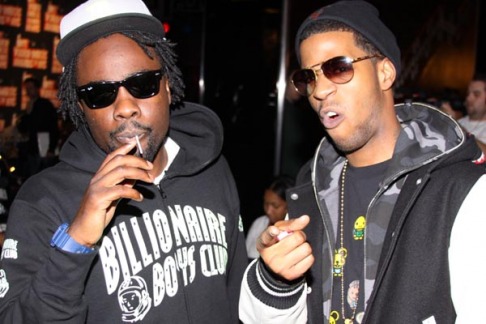 Kid Cudi was the front-man for Complex's October/November 2010 issue. The entire feature is ready to read here, but in the excerpt below, he explains his problem with Wale.
Complex: Speaking of Wale, when you hit that fan at your show last December, he came out with a line about it ["Throwin' 'round wallets like the dude that Kid Cudi hit," from "Thank You Freestyle"].

Kid Cudi: It wasn't a shot, it's just a simple-ass rhyme by a simple-ass rapper. You can't let that shit faze you. That's one of those raps that just shows the world that you wack. Why would you even use that as a metaphor? Everybody think they Hov. Niggas ain't got the magic like they think they do; there's only a couple of wizards in this game. I'm a wizard and I know it.
Complex: Are your peers not seeing that?
Kid Cudi: The last album, I let people dis me, throw out those jabs in their verses and have their little slick remarks. This time around, I'm not fucking around. I have no time to think about other niggas. These other motherfuckers like feeding off another nigga's energy, so they mention their name. You hear me talk about niggas? I don't even talk about Kanye, and that's my homeboy! They talk about Kanye like they're bosom buddies with this nigga. Talking about "I be in Hawaii"—man, shut the fuck up, why you got to tell everybody everything? Then people like Wale get mad that 'Ye ain't give him no beats—'Ye ain't give you no beats because we ain't fucking with your raps. It's not a conspiracy theory. We don't fuck with you musically, so we're not going to provide music for you. The shit is a service, it's a quality of a certain standard. Niggas are just so thirsty it's ridiculous. I've been eating humble pie forever, and people still call me an asshole. These people don't know my fucking life—now I'm going to give them something to talk about.
Wale answered back on his Twitter page, making it clear to Cudder that it's game on bitch… But does anyone really want to hear these two battle it out?