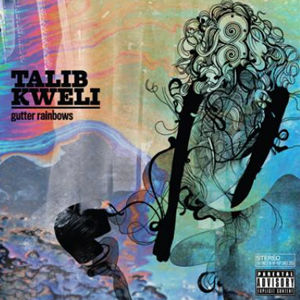 Today Talib Kweli finally returns to music-shelves & iPod's everywhere.
This is his first solo venture since his 2007 album Eardrum. Gutter Rainbows is the name of his new release, and like most conscious emcee's now days he released this album under his own label,  Blacksmith Music.
Unfortunately, like Eardrum, critics seem to be frowning over this release. The consensus seems quite clear, the album was a good attempt at showing everyone that he still has that kosher flow and delivery, but lacked diversity and was absent of his usual mind-opening lyrics.
On the technical side of the album, Gutter Rainbows features songs produced by Ski Beatz, Marco Polo, Khrysis, Shuko, M-Phazes.
The album came out 1/25/11, buy it on Itunes & on Amazon.com from today!