T Pain's highly anticipated third album Thr33 Ringz has leaked to the internet over the weekend.
Cover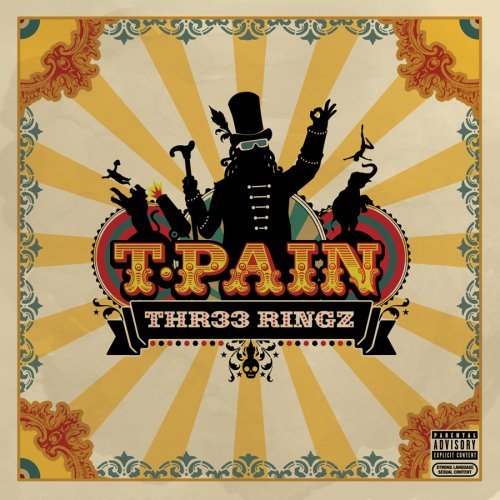 Tracklist
01. Band New Show
02. Welcome To Thr33 Ringz Intro
03. Ringeader Man
04. Chopped 'N' Skrewed (Feat. Ludacris)
05. Take A Ride Skit
06. Freeze (Feat. Chris Brown)
07. Blowing Up (Feat. Ciara)
08. Cant Believe It (Feat. Lil' Wayne)
09. It Aint Me (Feat. Akon & T.I.)
10. Feed The Lions Skit
11. Therapy (Feat. Kanye West)
12. Long Lap Dance
13. Lorraine Interlude
14. Reality Show (Feat. Musiq Soulchild, Raheem DeVaughn, & Jay Lyriq)
15. Keep Going
16. Superstar Lady (Feat. Young Cash)
17. Change (Feat. Akon, Diddy, & Mary J. Blige)
18. Digital (Feat. Tay Dizm)
19. Karaoke (Feat. DJ Khaled)
20. Dracula Skit
21. Distorted
22. Bad Side
23. Phantom
Guest Appearances
Thr33 Ringz has guest appearances from Lil Wayne, Akon, Diddy, T.I.,Ludacris, Chris Brown, Kanye West, Ciara and many more.
Release Date
November 11th, 2008
Leak Date
October 31st, 2008