Rumors are now circulating that Eminem's new album will come out in December 23rd. Of course, you can take that with a grain of salt. The actual source is Amazon.com and I know everybody is going to cop the album from there.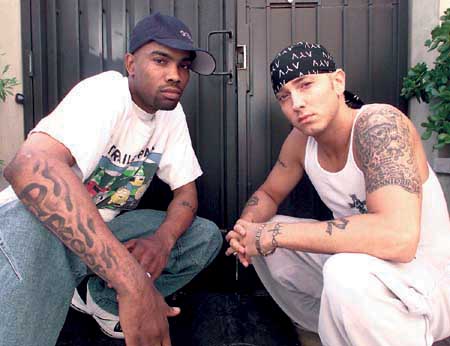 50 Cent and Kanye West will be battling for album sales again. 50 Cent will be dropping Before I Self Destruct on December 9th whereas 808s And Heartbreak will be coming out on November 25th.
50 Cent has begun speaking about Kanye's new project.
There's no comparisons in us as artists", 50 Cent told MTV. "We're almost the yin and the yang, it's almost the opposite. It almost was taboo for you to make a love record from a Hip Hop perspective. That was actually reserved for LL Cool J and "I Need Love" and "I Can Love You Better." He was the only Hip Hop artist that actually did that prior to what I see coming from Kanye, and for him to make an entire love album. Like it's pretty much based on love and Auto-Tunes, 808's, and heartbreak. I can't wait to see what this does.
A new mixtape from Jay Z and Coldplay will be released tonight inspired by the recent lost remix that we posted on Illest Lyrics.
Jay and [Coldplay frontman] Chris [Martin] represent all that is right with modern music and art and have collaborated a few times in recent years to great results," Mick Boogie told AllHipHop.com. "So why not extend that concept over an entire album? I thought when Danger Mouse did the Grey Album, it was just remarkable. And while I didn't like every song on there, when it was on, it was absolutely some of the most amazing stuff I had heard. Same with the Jay-Z/Linkin Park project. So we tried to take a collaboration that was already organic and make it real and also extend that quality level throughout the entire project.
As we began piecing together the correct verses to match the correct beats, it became clear how truly amazing this project really is," Mick Boogie boasted "This is what real music is supposed to sound like. The lyrical elegance of Shawn Carter, the vocal magic of Chris Martin, the finely tuned instruments of Coldplay, the creative visions by our team of producers, and lastly, our analysis of which Jay verse best fit each track. If you love Jay-Z and you're not into Coldplay, this is for you. If you love Coldplay, but don't mess with Hip-Hop, this is for you. If you love all good music, this is definitely for you. We hope this project bridges the gap between genres, fans, and generations.
The mixtape will be released on www.vivalahova.com at midnight.