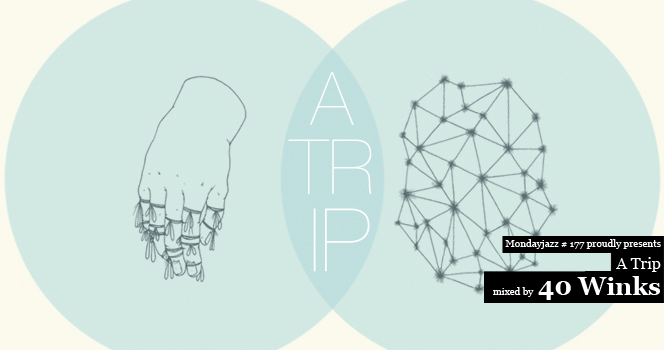 40 Winks is an instrumental hip hop group made up of two producers – padmo' and weedy – from Antwerp, Belgium. The guys release their material through notorious Project: Mooncircle label, which is going to launch new 40 Winks LP It's The Trip in the middle of April.
And before that we got their mix A Trip. As supposed to be, you can get a selection of starters from 40 Winks own menu, complimented with stuff from their label mates and served with some fat names from the scene in general.
And for the dessert mix goes with some nice and rear jazz tracks. So A Trip is yet another classic Monday's delight. Artwork by Justin Bryan Nelson!
Click here to download.
Tracklist:
Barry Forgie – Dawn Mists
Caterina Caselli – Com'è Buia La Città 
40 Winks – Badwill
Sadi – La Maitresse
fLako – Kelau
Calibro 35 – Una Stanza Vuota
40 Winks – Mood Adapter (prelude)
40 Winks – Mood Adapter
40 Winks – Kodak Moment
Roberto and his orchestra – Restless
Yusef Lateef – Golden Flute
Dimlite – Metal snake rider
Flying Lotus – Zodiac Shit
Shape of broad minds – It ain't dead
40 Winks – Outside The Box
Portishead – Nylon smile
40 Winks – Tribal Recipe
Paul White – Bom Bom
Dr Who Dat – March to viberia
Dwilt Sharpp – Tell me where you are
James Pants – Stalagtite
Young Magic – Sparkly