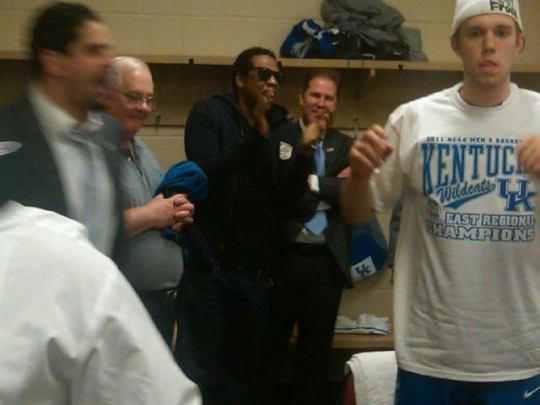 According to the monsters at CBS/Paramount/Viacom — it looks like the NBA is planning to investigate the contact between New Jersey Nets part-owner Jay Z and the Kentucky Wildcats basketball team this past Sunday,
Apparently Jay-Z took it up himself to visit the Wildcats' locker room after Kentucky spanked the University of North Carolina to reach the Final Four Sunday night.
"I said, 'Oh that's Jay-Z!' " Wildcat Terrance Jones said afterward. "We all gave him a handshake and he came in the locker room, and we just kept screaming 'Jay-Z in the locker room!' He congratulated us, just said he was proud of us."
The NBA is planning on investigating if Jay-Z's presence represented any NBA contact violations between ownership and amateur basketball talent. The Kentucky Wildcats have at least two players, Brandon Knight and Terrence Jones, who are expected to be lottery picks in this summer's NBA draft.