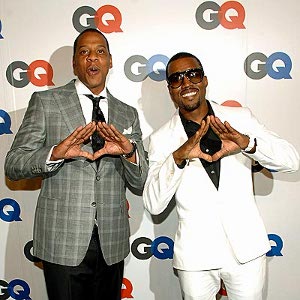 Jay Z might have brought Kanye West into the game, but Kanye has held his own with the self proclaimed hip hop king for nearly a decade.
Kanye has a huge come back record that came out today called My Beautiful Dark Twisted Fantasy that features production from Q-Tip, DJ Premier, RZA, Pete Rock, Madlib, DJ Toomp, Swizz Beatz, Lex Luger, and Justin Vernon.
Jay Z will join Kanye West on that album that also features Jay Z, Pusha T, Prynce Cy Hi, Swizz Beatz and The RZA on a song titled So Appalled.
This reference track is most likely going to be on the upcoming MBDTF sessions.
Find out a lot more about Kanye's newest album on his wikipedia page.
Here is the download:
[mp3]http://www.illestlyrics.com/copyright/ap-ggnx2u7ztwpq&titles=Kanye West & Jay-Z ft. Elly Jackson – That's My Bitch.mp3[/mp3]