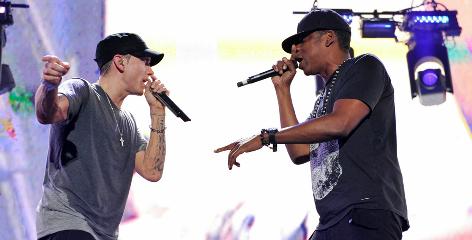 Thursday September 2nd, 2010…
That night… Is the night some of the most brightest stars of all time shined inside Comerica Park, it was a night that will forever go down in history, and the best thing about it is: it's still not over.
Jay-Z & Eminem put on a stadium sell out Thursday (any surprise?). Fans from all around the country came to see this rare-spectacular event, even some die-hard California fans driving over 1,900 miles just to see event.
The stadium was full, from top to bottom, left to right, inside and out, something 98% of the rap game could only dream about. The first show of a 4-show series took place in Marshall's own backyard — Detroit. Eminem hadn't performed in his hometown for years,  but like the man of steel that he is, there appeared to be no signs of rust what so ever. Jay-Z was in top form like usual, rocking his typical Ray Ban sunglasses & black T, giving the audience over 15 years of classic hits. As well, the guest list was star-studded, a red carpet affair even the MTV Music Awards couldn't pull off. Everyone from Young Jeezy, 50 Cent, Dr. Dre, D-12, Trick Trick, Drake, and more.
B.o.B opened the show up with a 30 minute set, getting the crowd warmed up as the Michigan night sky began to settle over. As his performance came to a close, the stars were beginning to shine bright, the air was was settling in like a cold body in a warm blanket, but then… Came the King of the East… Jay-Z.
Jay-Z opened up with a few old school tracks, he even put on an emotional eulogy of hip hop's fallen artists right before performing his old school hit "Hard Knock Life". He rocked the stage for almost two hours, hardly leaving any room left for the main course. By the time Jay was done, Comerica Park had already set a new record for most amount of sweat ever collected on one field (Detroit Tigers had no comment).
Em laid out the back-story that lead into the concerts: the years of inactivity that followed his last Comerica Park concert in 2005, and his subsequent journey to rehab for drug abuse. When he appeared on stage, wearing a ballcap and a hoodie, with a large Olde English D, he tore into the Recovery track "Won't Back Down" like it was a fresh piece of meat.
Overall this was a historic event, and there are still three more shows to do. If they are anything like this one, I don't think the country will ever be the same. Here is some footage of last night's show —