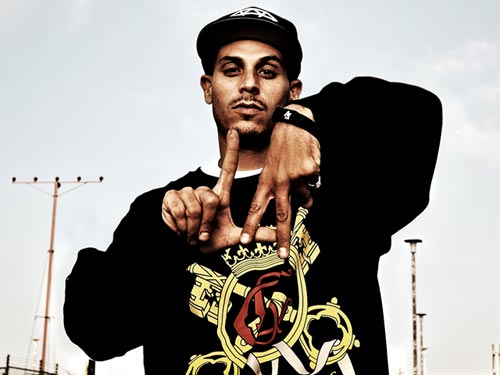 During Friday night's P.O.S. concert in Los Angeles' The Troubador, Evidence stood out in appreciation, without taking the stage, as Dessa, Grieves & Budo, and P.O.S. performed. It isn't a rare sighting with two of the three acts on the bill presently representing Rhymesayers Entertainment. After all, Ev is getting ready for the release of his own RSE release, which has been one of the most talked about albums this year.
Evidence stopped for a second to let HipHopDX know about the album, Cats & Dogs, a project he first spoke to HipHopDX about last year. The disc, which has had fans anxiously awaiting, will get a considerate amount of "lead time," as he said. This is something Rhymesayers Entertainment has requested in order to build up to the project's release.
"Rhymesayers likes a bigger lead time than most labels, which I think is a great thing. It's about having an album I can tour for years [versus] meeting a second, third or forth quarter for rushed reasons. I am putting the finishing touches on it all this month and the top of next. I'm not over thinking this one…just making honest music as I have my last two solo releases. I have upped my skills over the last years due to being inspired by a lot of my peers. I feel you will hear my growth with Cats & Dogs. Expect early to late Summer release," stated Evidence.
Recently, fans got a sample of what's ahead when DJ Premier dropped "To Be Continued" on his radio show. Fans can expect more new music from Mr. Slow Flow soon, as he noted via Twitter.
"Leaking 'Outtamymind' soon. Ev feat @MURS and …. ? I'm Indy! Can do whatever I want," Evidence adds, leaving a question on his fans heads of who the third artist might be.
Cats & Dogs is Evidence's follow up to 2007's The Weatherman LP and 2008's The Layover EP.