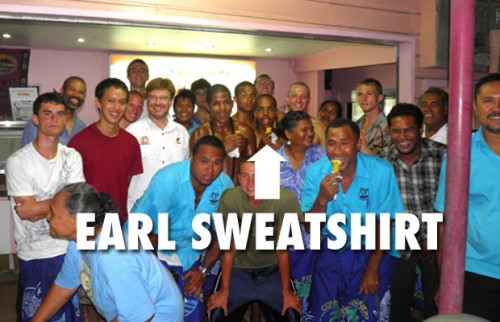 Odd Future's most mysterious member, Earl Sweatshirt, has been the talk of the Internet since Complex allegedly found the whereabouts of the rapper after months of being off the radar.
The magazine/website launched an investigation trying to locate the 17-year-old rapper, who released the critically acclaimed web album, Earl, in March 2010. Their research — which included clues from OFWGKTA's later verses, and photos from Facebook — turned up evidence that Earl had been shipped, by his mother, to the all-boys military school Coral Reef Academy in Samoa.
Complex was contacted by some kid who said he met Thebe (Earl) in Samoa at the center, they then traced that kid through Facebook, leading them to the Coral Reef Academy, which is where they found the pics of a kid who at least looks an awful lot like Earl Sweatshirt. Added to the case that Earl is in Samoa, is Domo Genesis' and Hodgy Beat's new song "Tang Golf," which has a line, "Ask Syd where we at. She'll tell you where we going. To free Earl from the fucking Samoans."
The boot-camp is billed as a treatment facility for American teens who are "lost in anger, depression, drugs, or alcohol."
Odd Future's head leader, Tyler The Creator, is upset by the reports. Initially, the emcee took to Twitter to deny the claims, first with a tweet calling the news "false", before directing some harsh words toward the mag.
_________________________
"I Just Came On This To Say That Complex Sh** Is False Info. Sucks Waking Up To Some Sh** Like That," Tyler wrote (@f***tyler), adding, "F*** Complex.
"F***ing Creeps, Did All That For A N**** That You Don't Even Know. Can't Even Respect My; His; Or His Mom Privacy. Yeah, I'm Bitching," he continued, before expressing some concern over Earl's family's privacy.
"I'm Scared That Someone Is Gonna Take It Up A Notch And Show Up At His Moms House. F***," Tyler wrote.
_________________________
While Complex's reports seem true, Tyler's denials make it unclear if the findings are actually true.
OFWGKTA is currently on a performing spree, performing at all kinds of festivals and spot dates, including the 2011 Coachella Music & Arts Festival over the weekend. They are also set to kick off an official tour that will head across the nation, then into U.K. and Australia.
Tyler The Creator's solo album, Goblin, is due out on May 10.