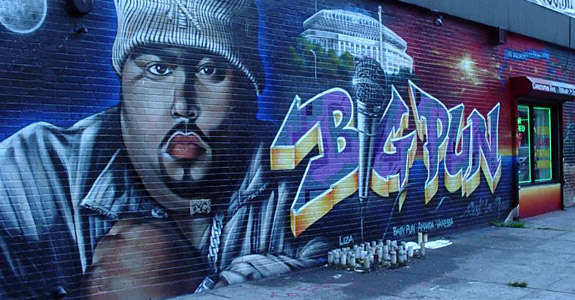 By Erika Ramirez (MTV)

Today (February 7th) marks the eleven year anniversary of rapper Big Punisher's passing. Puerto Rican rapper, Christopher Rios, left us with a plethora of hits to remember him by and raised the stakes with his lyricism and perseverance. Coming from the South Bronx, New York, Big Pun was one of the most prolific Latino rappers in history and the first solo Latino rapper to go platinum, attaining a Grammy before his passing in 2000. From hits such as club-anthem, "Still Not a Player," off Capital Punishment to significant guest appearances alongside Jennifer Lopez, Noreaga and the Beatnuts, Pun sparked inspiration throughout the Latin community and the rap game as a whole.
In memory of the late great we turned to a few rap critics for their thoughts on Big Pun, from the most memorable moment in his career to the first thing that comes up when Pun's name is mentioned.
"Pun was one of the most prolific MC's of his generation, who garnered, not only the respect of his peers but the people," Thomas Harden, Editor-in-Chief of Urban Latino Magazine, said. "His lyrical prowess not only changed the perception of Latino rappers in hip-hop, but set a benchmark for all MC's. It's been eleven years since Pun's untimely death and his music still resonates with us today. Timeless cuts like "Still Not a Player," "The Dream Shatter," "Twinz (Deep Cover '98)," and "Leather Face" still get the crowd moving nationwide. And don't forget, he was the first Latino rap artist to go platinum. What Pun was able to accomplish, in such a short period, has had an everlasting effect on hip-hop as a whole. 'Earth to Pun… come in Pun!' RIP!"
"Big Pun had a mastery of flow and cadence that was way ahead of his time," David D of The Smoking Section weighed in. "He just almost had an instincts ability to take a ginzu knife to a beat and slice it to shreds. One thing that people overlook is his superb breath control. For such a big guy, he was able to rail off those lines from "Deep Cover" without losing his breath. If you look at some of the new guys out there that are mastering the double-timed flow — Cory Gunz, Joell Ortiz — you'll see that they studied Big Pun. So often, rappers are "good for their time." But Pun's breakneck delivery can stand up against the slickest rhymesayers out now."
Legend, from FreeOnSmash, expressed his respect for the lyrical assassin.
"Not only will Big Pun go down as one of the best Latin rappers to ever do it, his place in hip-hop is forever reserved," Legend said. "He continues to influence and pave the way for many of today's artists, especially Latinos who have dreams of making it in the industry."
"I remember being in junior high school when I first heard Pun freestyle over the "Ice Cream" beat, and was just blown away," Paul Cantor, writer for Complex magazine said. "He had a very precise rapid-fire flow, where the words kind of all lined up both rhythmically as well as sonically. It wasn't just two or three words rhyming in a couplet. It was like 8 or 9 and they all made sense. Not to say he was the first guy to do this, but at that time, guys were still doing the a-b-c 1-2-3 type flows. That made him stand out a lot. By the late 90s, just the whole character of who Pun was came into play. He was a street rapper who could rhyme about more than just the street. He could rhyme next to Black Thought or Prodigy and it'd all be the same thing to him. He was an underdog who'd finally made it, but hadn't forgotten the Bronx streets that made him who he was. In a lot of ways, when i think of late 90s hip-hop, but even more specifically late 90s New York, I think of Pun. He makes me think of the Yankees and all their championships, Jimmy's Bronx Café, Jennifer Lopez, Hot 97, that summer when "Still Not A Player" was playing out of every car that passed by, mixtapes, and that Source magazine cover with all the upcoming artists like Pun, Canibus, Cam'ron and DMX on it.
Paul Cantor continued to speak on Pun's lyricism,
"Lastly, when I hear the word lyricist thrown around nowadays, Big Pun is always my reference point. He was a lyricist. A master of wordplay and of flow and he had the technical proficiency to put it all together on a record so that it sounded musical without sounding forced. Very few lyricists have the ability to do that. Eminem comes to mind as perhaps the best at it, and had Pun not passed, he might have been right there with Mr. Mathers in that respect. But in general, to me, Pun was one of the last true great lyricists. Not saying there haven't been any since, but when it came to meshing it all together, he was in a class of his own. As a fan of not just hip-hop, but music in general, Big Pun is someone I sorely miss. I truly do hope he's resting in peace."