Moderators: Loon E Lou, Kuhlerblynd
Army Of Three
Posts: 3522
Joined: Sun Jan 15, 2006 3:57 pm
Wins: 46
Losses: 14
No Shows: 2
Location: Earth
Contact:
Rules
7 Bars/14 lines (MAX)
Due 96 hours(4 days) from time of this thread
First to 5 votes (3-0=ko/4-1=tko). Each day late is 1 against you
Voting must use categories with brief explanations.
Categories
-Storytelling
-Flow
-Creativity
-Rhyme scheme
-Metaphors & Similes
-Consistency
-Impact
Enlightnd's Topic is "My greatest fear"

jayzon_black's topic is "Life as a Samurai"
---
Rhyme Master
Posts: 205
Joined: Sun Jul 03, 2011 6:35 am
Wins: 4
Losses: 6
No Shows: 1
Whap! "Get up" Bamboo searing soaring connecting with flesh and sinew
That set up, ensues rearing, roaring, digesting what sensei will do

Whap! "Keep Movin" tho exhaustion sets from yrs of rain soaked training
Sap is oozing so i'm costing reps some fear the pain approach refraining

Years of anguish pile in disgust, discussing love thats now lost
Tears will vanquish now into dust, entrusting what has found us

Super soldiers, superior in makeup and breed
Yet soon my holders, captures, no longer succeed

The dark of the night approaches, grab the blade, leave the room
One spark of the light a broke diss, glad is shade, flee the tomb

Outside the dojo, scale the wall, fail to fall, succeed
Now hide from Kojo, Klan of Just Officials, indeed

Flee in the dark, fluttering starts, and yet the Klan is steady on the trail
Me and the marks, whateva sparks, Blade or the Hands I'm ready for Hell
Ride out, Glide out.
---
Poetically Speaking
Posts: 429
Joined: Fri Jun 03, 2011 9:33 am
Wins: 17
Losses: 3
Location: Boston MA
hhhhhmmmm what am i afraid of....

so long has past since, i grew up in Boston mass, some say my age was way ahead of my days
my pops a frequent guest of the state(Prison) but when he was free my mother was kept in a haze
loved her kids, but he brought her confusion, frail a user an her dealer abuser a perfect union
he laughed as his fists dispersed a bruising, called it his job and said his work was amusing
as i got older i cried when he hit her, before long his anger turned on me and my sister
i remember the date i was 10 she was 8 he attempted her rape, he cried that he couldn't resist her
then i heard in the rage "sure ur pleading help now that you lay on the floor bleeding out,
my sister she cried for her brother as my mother was holding a blade of course weeping now
in the end my moms case got dismissed, but we still became foster kids and my dad survived
and that sums up all my facts of life, but lets get back to now as i try to put the past aside
i told u this yeah... but im not afraid of my dad though, its that my chain of abuse is shackles
and even though i plan to crack bash an smash those im still scared of becoming that asshole
Last edited by
Enlightend
on Fri Jul 29, 2011 1:37 am, edited 1 time in total.
[center]
-
The Elitists
-
[/center]
[center]
[/center]
---
Rap King
Posts: 946
Joined: Thu Feb 03, 2011 3:31 am
Wins: 10
Losses: 13
Location: boise, Idaho
-Storytelling- Enlightened
-Flow- JAzon
-Creativity-Enlightened
-Rhyme scheme-Enlighted
-Metaphors & Similes-Enlightened
-Consistency-Enlightened
-Impact- Enlightened


Gotta give it to him.. he drops that hot fire.. nah... on the real his topic was just more well delivered.. the fear seemed realistic and heartfelt..


but nice shit from both of yas
Sound click page
http://www.soundclick.com/bands/default ... dID=918703
One of Illestlyrics Best Collaborators 2011
---
Rhyme Master
Posts: 163
Joined: Thu Jul 07, 2011 9:51 pm
Wins: 8
The person in charge of the tourney can decide if my vote counts or not since me and E are in the same crew. We could potentially be opponents so I guess this is okay.

Storytelling:E
Flow: Jayzon
Creativity:Jayzon
Rhyme scheme:Tie
Metaphors & Similes:E
Consistency:E
Impact:E

Vote: E

You guys put on a nice show.
[center]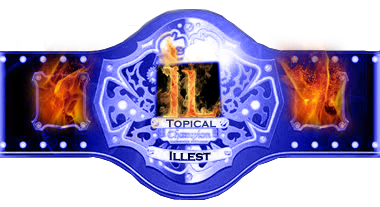 [/center]
The Elitists:
"We don't diss anymore, we only write songs for charities and Christmas carrols" - Sir 3rd String QB
3rd String QB
Calico
Enlightend
Shazo
---
Army Of Three
Posts: 3522
Joined: Sun Jan 15, 2006 3:57 pm
Wins: 46
Losses: 14
No Shows: 2
Location: Earth
Contact:
Storytelling:Enlightend
Flow:tie
Creativity:Enlightend (for the outro)
Rhyme scheme:Jayzon
Metaphors & Similes:tie
Consistency:tie
Impact:Enlightend

vote:Enlightend

definitely a hell of a story, for a while i wasn't sure what you were afraid of, could've been your dad, losing someone close, blood, anything really.. so that ending really gave it a spin and one that many could relate to, as for jayzon, i would've focused less on trying to get rhymes in and more on the details and depth of your storytelling, it was a nice try, though i think this was a walk in the park for enlightend
---
Army Of Three
Posts: 855
Joined: Sun Oct 19, 2008 11:07 am
Wins: 25
Losses: 3
No Shows: 1
Location: Seattle
Contact:
ENLIGHTEND... CAT SWEEP

I LIKE HOW U SAID U WERE AFRIAD OF BECOMING UR POPS. GOOD IDEA, I LIKED THAT

VOTE: ENLIGHTEND



JAYZON - TOO MANY FORCED RHYMES BRO. UR MULTIS WERE LIKE 17 SYLABLES, LOL...WAAAAY TOO LONG, AND I THOUGHT UR STORY WAS VERY BLAN N BORING...
WINS:
Ekmos - KO ... Duc3 - KO ... Jesodist - KO ... MagicMark - KO ... Animul_Instinkz - KO ... Old Rotten - KO ... Dr Kevorkian - KO ... Ambition - KO ... Eclipse - KO ... Domino - 5-3 ... Crimson - KO ... MC Scars - KO ... Modern Defiance - KO ... Tempest - KO ... QwarterZ - KO ... TreTru - KO ... Quix - KO ... Grim/Leeroi Green - KO ... Knowmad - KO ... Cre@tiv3 - KO ... MVario - TKO ... Hazard - KO ... ER - KO ... Colossus - KO ... FlipSide - KO ... JackDaRippa - KO ... JSteel - KO ... Kau The Lion - KO ... 32Neilz - KO ... Evolution - TKO ... Shazo - KO ... CBK - KO
---
Army Of Three
Posts: 3522
Joined: Sun Jan 15, 2006 3:57 pm
Wins: 46
Losses: 14
No Shows: 2
Location: Earth
Contact:
Enlightend wins 4-0

-updated and closed-
---
---
Users browsing this forum: No registered users and 3 guests