Moderators: Loon E Lou, Kuhlerblynd, Battle Mods
Britain's Great White Hope
Posts: 837
Joined: Sat Aug 28, 2010 10:51 pm
Wins: 7
Losses: 11
No Shows: 1
Contact:
Topic - Fighting An Addiction

16 Lines
Due 48 Hours



This Is My Check
Illest's most likely to shock you in 2011
Illest's class of 2010
Illest's text collab of 2010 Collectively Ill - Haunted Street's
---
Rap Assassin
Posts: 543
Joined: Fri Mar 25, 2011 6:21 am
Wins: 9
Losses: 18
No Shows: 1
Contact:
"battling an(d) addiction"


lets call him mister benjamin harris,lyricist, heroin addict,
alcohol abusing, ketamine, tablet, user with an amphetamine habit an avid fan of ecstasy an magic to cap it.just imagine this faggot, scheming up plots and tactics, simply fiending, needing to satisfy his crack fix, sharing needles with other uneducated addicts, until the fact hits he escalated from smoking weed to dragon chasing and taking smack hits, ironic really he once "spat fire" and had mad flips, battle rap tracks that could smash kids,ambitions an visions of spitting writtens at were the cash is.an my god did this pitiful bastard have it mastered,a lyrical wizard, harris never had to practice, but thats were this story went from gladness to tragic he had the stats to grasp it, an attributes to match it, but fame fell into his hands, and this daft prick failed to catch it, found cash turned to ale and cannabis, became a paraletic paranoid agrophobic anarchist, stayed at home an had panic fits, lost weight and took steroids to counterbalance it, not knowing how to manage shit, this amateur plastic rapper sacked his manager and vanished, fell from glory to despair from filthy rich to filthy an poor,sleeping on floors smoking rocks by the dirty dozen not stopping,constantly fiending for more, popping purple pills by the score, basically developed a comedownsyndrome, constantly biting his jaw,he's writing no more, inside in bright lighting his sight is frightening for sure
he's gradually dying,fighting but a heightening force is smiting his course,slighting his cause, the constant thrill of a "hit" is for ever right in his thoughts.
---
Britain's Great White Hope
Posts: 837
Joined: Sat Aug 28, 2010 10:51 pm
Wins: 7
Losses: 11
No Shows: 1
Contact:
Feel The Need,The Want And The Greed Feel The Hunger That I Need To Feed
Feel The Blood Pour, Feel The Release As I Now Seem Slightly Free
The Despair Brings No Hope, I Try To Breath Deep But I Just Choke
Its Like An Invisible Rope, Interwined To Make A Noose At My Throat
I Try To Alter My Thoughts But It Just Keeps On Dragging Me Back
Without It Useless, I Suffer Panic Attacks And Fall Off Track
With It Im Like A Different Man,An Attitude That Just Screams I CAN
Its Like My Lifeline And Without It I Would Die, Let Me Tell You How It Began
I Was Introduced Through A Friend,He Said It Was All The Rage, A new Trend
I Was Unsure At First But I Was Intrigued I Cant Lie Or Pretend
I Soon Became Hooked, Shut Away From The World For Hours I Was Drugged
Now Even The Thought Of Living Without It Makes Me Realise Im Hooked
Its Tough to stop Uing Like Trying To Climb Everest Barefoot
Iv Tried Going Cold Turkey But With No Luck, Its The Only Thing I Truly Love
My Eyes Are Dark And Skin Pale All From Lack Of The Sun
But What Keeps Me Going Is My True Love,My Drug...........FACEBOOK
Illest's most likely to shock you in 2011
Illest's class of 2010
Illest's text collab of 2010 Collectively Ill - Haunted Street's
---
Rhyme Master
Posts: 163
Joined: Thu Jul 07, 2011 9:51 pm
Wins: 8
CBK - You showed me potential in this battle. I just have to help you fix the structure. It makes sense if a person reads your verse but it's ugly to look at.


Storytelling - Orfadox: Had a more complete story.
Flow - CBK: It doesn't look good but he is natural with his mutli usage. It flows better when you read it out loud.
Rhyme Sceme - Orfadox: A much cleaner read.
Creativity - Orfadox: Very good and creative addiction when you read the entire verse leading up.
Consistency - Tie: Both kept the theme in tact they chose to follow.
Impact - Orfadox: A much better built verse. Very creative and enjoyable.

Vote - Orfadox
[center]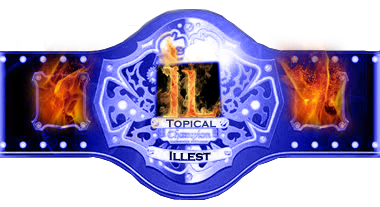 [/center]
The Elitists:
"We don't diss anymore, we only write songs for charities and Christmas carrols" - Sir 3rd String QB
3rd String QB
Calico
Enlightend
Shazo
---
---
Army Of Three
Posts: 716
Joined: Tue Aug 31, 2010 11:52 am
Wins: 16
Losses: 1
Contact:
i got this when i get off work
IL record:
16-1
---
Elite Freestyler
Posts: 405
Joined: Tue May 17, 2011 2:14 am
Wins: 32
Losses: 31
No Shows: 1
i enjoyed both reads,im new to topicals so these battles definitley help me out alot,
comeback kid you gave me a decent-read,i felt like your structure could have been better,
you did use more mutlies,i felt it could have been more creative,it was the obvious direction most would take with this kind of topic but other than that it was solid,it was hard to keep up with your story c.b.k.,
orfadoxs verse was an interesting read,i liked where he was going with it,and a suprising ender lol
but good job to both i want to see more from both emcees,
Storytelling:orfadox (was more easier to read and understand the story)
Flow:TIE (both stayed with their flow)
Creativity:orfadox
Multis:Comeback kid
Wordplay:TIE (there wasnt too many wordplay attempts)
Rhyme Scheme:Orf
Consistency:TIE
Impact:Orf
MVGT:orfadox
---
But I See Right Thru You
Posts: 2724
Joined: Tue Aug 17, 2010 8:04 pm
Wins: 43
Losses: 8
No Shows: 2
Contact:
This wasn't really all that close, in my opinion.

Storytelling: Orfadox
-This was a fairly easy choice for me. Orf's story was much easier to follow and stayed more consistant throughout

Flow: Im going to say tie
-While I do think that Comeback Kid had better mutli's and better use of them, I dont think it gave his flow and advantage due to the way his story seemed to bounce around, which caused me to have to go back and read some and such. Orf kept a consistant pace, as did CBK overall, so I'll give this a tie.

Creativity: Orfadox
-This COULD have gone to CBK, if his story would have been easier to follow. Orfadox's story was done really well, he stayed at a good pace, and leading up to the end, he kept it moving along nicely.

Multis: Comeback Kid
-As I stated earlier, CBK had more of them and better use of them.

Wordplay: Tie
-I honestly didnt see much of any of this from either person.

Rhyme Scheme: Orfadox
-I had to go back and look at this one again, and Orf's syllable count was nearly the same throughout, while CBK's lines seemed choppy in a few different spots.

Consistency: Orfadox
-As I said earlier, from top to bottom, Orf's story had a good pace, and he kept it moving at a great speed for the story he put together, whereas CBK's seemed to jump around, almost to the point where it was confusing in some spots.

Impact: Orfadox
-Simply for all the reasons above, combined.

My vote goes to Orfadox. Good battle gentlemen.
--~Murk McNasty~--
Battle WRECKord 42-8
---
Britain's Great White Hope
Posts: 837
Joined: Sat Aug 28, 2010 10:51 pm
Wins: 7
Losses: 11
No Shows: 1
Contact:
Thanks For The Vote Can Finally Wrap This Up

-- Tue Oct 04, 2011 7:18 am --

My By Count That's A K.O....Someone Want To Clear This Up?
Illest's most likely to shock you in 2011
Illest's class of 2010
Illest's text collab of 2010 Collectively Ill - Haunted Street's
---
Lyrically Inclined
Posts: 130
Joined: Sat Apr 23, 2011 3:45 pm
Wins: 10
Losses: 4
No Shows: 1
3-0 Close this?
Pest wrote:[center]"Enders is an enigma wrapped inside of a paradox in the middle of a riddle"[/center]
---
Sudonim Free
Posts: 1955
Joined: Wed Nov 24, 2010 6:09 am
Wins: 8
Losses: 3
No Shows: 1
Location: CA
---
Users browsing this forum: No registered users and 1 guest